The Kingsway Surgery is committed to providing the highest quality health care available under the NHS to all its patients with a well trained and motivated primary health care team. We believe it is important to work in partnership with our patients in their care and treatment
Aims and Responsibilities
It would help us if:
You let us know if you cannot keep, or no longer need an appointment.
You notify us if you change address or telephone number.
You don't leave ordering your medication to the last minute.
You treat Doctors, Nurses and Receptionists with courtesy and respect.
The Practice operates a zero tolerance policy and will we not accept any violence or abuse towards GPs, their staff or any other persons on the practice premises.
In such cases the patient will be removed from the practice register immediately and advised to find an alternative healthcare provider.
We will:
Aim to provide the best possible service that puts patient's welfare at the heart of what we do.
Work in partnership with our patients, their families and carers, involving them in decision making about their treatment and care.
Work in partnership with other agencies to tackle the causes of, as well as provide the treatment for ill health and where appropriate involve other professionals in the care of our patients.
Make information available about the services we provide.
Deal with complaints via our complaints procedure as efficiently as possible.
Ensure that you are dealt with professionally and with courtesy.
Ensure that all those handling information understand that confidentiality is maintained.
Kingsway Surgery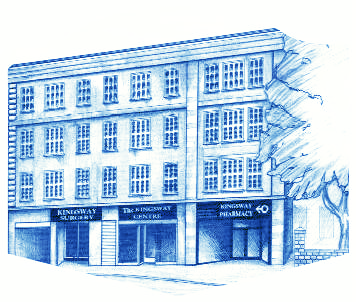 Door Opening Times

| | |
| --- | --- |
| Monday | 08:30 - 18:00 |
| Tuesday | 08:30 - 18:00 |
| Wednesday | 08:30 - 18:00 |
| Thursday | 08:30 - 18:00 |
| Friday | 08:30 - 18:00 |
| Weekend | Closed |
Telephone Opening Times

| | |
| --- | --- |
| Monday | 08:00 - 18:30 |
| Tuesday | 08:00 - 18:30 |
| Wednesday | 08:00 - 18:30 |
| Thursday | 08:00 - 18:30 |
| Friday | 08:00 - 18:30 |
| Weekend | Closed |